SPOTLIGHT ON EL SEGUNDO | JUNE 2021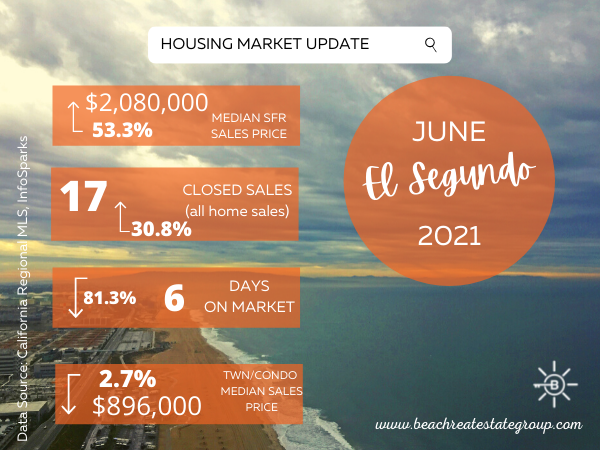 El Segundo is one of the South Bay's hidden gems, with its appealing small-town feel and its vibrant economy, boasting powerhouse businesses. This 5.5-mile community hosts a quaint downtown with extraordinary dining, charming residential neighborhoods, and a booming economy as the aerospace capital of the world – this is where the Air Force Space Command "phones home".

While you can soak up the sun along El Segundo's beaches, the Lakers and Kings may be soaking in sweat, practicing for the big game. Enjoy summer concerts in the park at Library Park or local shopping at The Point and Plaza El Segundo. With so much to see and do, it's no wonder that real estate is hot in this small, but mighty community!
In June, El Segundo had 17 Closed Sales, including Single Family Residence and Condo/Townhome properties. SFR homes sold for 100% of list price in June with a Median Closed Sale Price of $2,080,000 which is a 53.3% increase year over year in June. El Segundo has a 1.4-month inventory supply, which indicates a very strong Seller's Market. The price per square foot of home in the city is $888/sq ft for SFR and $661/sq ft for Condo/Townhomes.
May's statewide median home price was $818,260, up 0.5% from April and up 39.1% from May 2020. In May and June, the median sales price of a single-family residence in El Segundo was $1,945,000 and $2,080,000 consecutively.
Below is a chart showing median prices in El Segundo since 2008:
Below, please see some stats on other South Bay cities. Don't see your city or neighborhood, we're happy to help!