LOW INVENTORY… LOVE LETTERS… & LIABILITY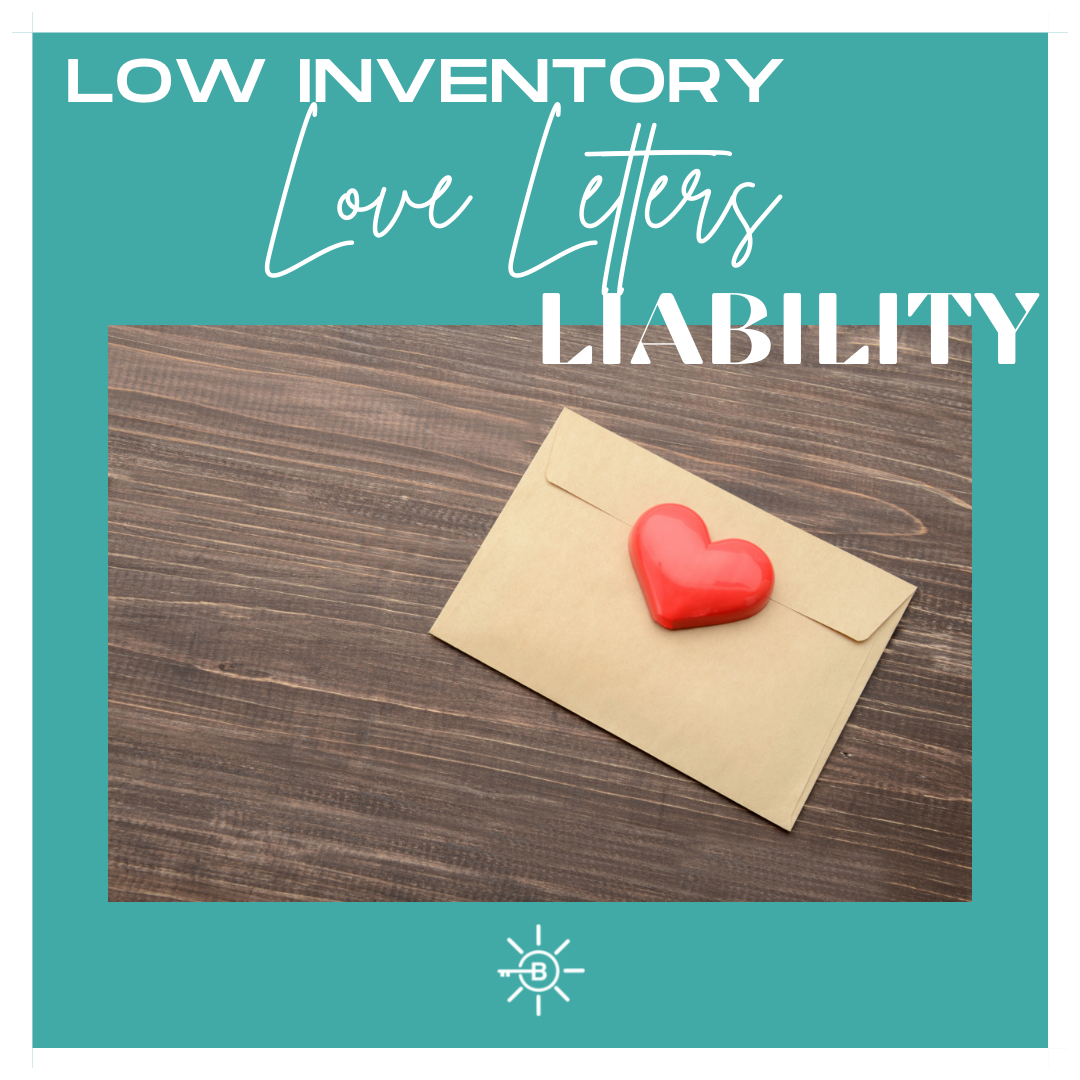 LOW INVENTORY:
The median sales price of a home in California surged past a record $813,980 in April, and housing production stalled for the second consecutive year in 2020.
Housing supply in May:
Manhattan Beach – 2.4 month supply

Redondo Beach – 1.2 month supply

Torrance – 1.2 month supply*
*It would only take 1.2 months to sell all the homes available in Torrance, indicating an extreme Seller's market.

LOVE LETTERS: To stand out in a competitive market, buyers sometimes write "love letters" to entice a seller to select their offer, listing descriptive reasons why they should be "picked", even enclosing a photo, hoping to appeal to the seller's emotion. While this seems harmless, it is important to note that these letters could pose fair housing risks because they contain personal information, which may describe and photos which would confirm the characteristics of the buyer, such as race, religion, or familial status. A seller's decision could then be knowingly or through an unconscious bias, based on this personal rationale as an unlawful basis for a seller's decision to accept or reject an offer.
LIABILITY
"Should a seller make a decision after being swayed by a love letter — which often contains demographic information about the hopeful buyer — it could put them in violation of the Fair Housing Act."
The Federal Fair Housing Act is part of the Civil Rights Act of 1968, which prohibits discrimination in selling or leasing residential property based on race, color, religion, sex, national origin, physical and mental handicap, and familial status. In California, there are 22 protected classes.
BEACH REAL ESTATE GROUP is among many real estate brokerages throughout the state and country, adopting a "no love letter policy" to protect sellers and buyers, standing up for equity in housing. Many attorneys we have spoken with have suggested that the liability may not be limited to a seller who reviews and considers buyer letters (especially those with photos); others may face potential legal claims from prospective buyers whose offers were rejected based on protected information – this may include the successful buyers and the brokerages/agents who participate in the sharing and review of personal information with the seller.
To understand the potential harm of these letters, we must place ourselves in the prospective buyers' shoes – what if you lost out on your dream home because the seller made their decision based on actual or unconscious bias. The selection may or may not have been motivated by discriminatory intent but may have had that effect. What if you were not selected because of your race, your familial status, your religion or more – because of discrimination or implicit bias from the seller? What if you discovered that the successful buyer had an unfair advantage because their love letter revealed personal information about them that swayed a seller? What if you wrote the love letter and it backfired, becoming the reason you were not selected?
We have been working with many buyers who have been successful in this market, helping them get prepared to win their home purchase – whether it's their first home, their final home, or an investment property. We are a team of certified Real Estate Negotiation Experts and have many resources and connections to put our best foot forward in every negotiation. You can learn more about our commitment to Fair Housing on the Fair Housing Declaration.