SPOTLIGHT ON REDONDO BEACH | APRIL 2021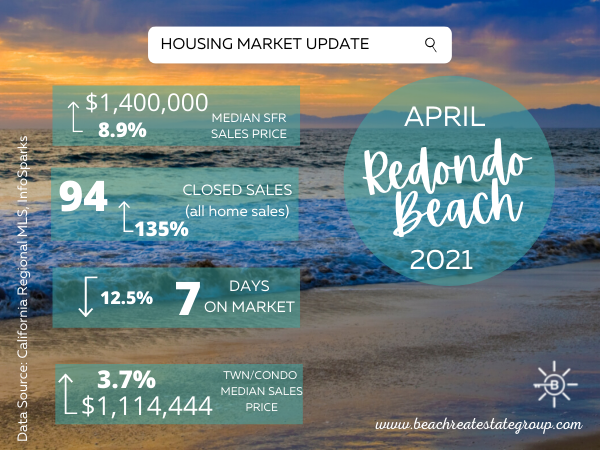 A resident of Redondo Beach can make their way to the beach for a full day of activities like surfing, bodyboarding, laying on the beach in search of the perfect tan or find peace listening to the waves crash on the shore. One can drive with the top down along The Esplanade or ride a bike on The Strand. The city boasts an abundance of shopping, grocery stores, restaurants, parks, gyms and award-winning schools. Ohh and the weather is nice!

The City is split into two main sections North and South Redondo Beach:

– In April, North Redondo Beach had 54 Closed Sales, including Single Family Residence and Condo/Townhome properties. Homes sold 4% over asking price in April with a neighborhood median Closed Sale price of $1.210M, which is a 9.5% increase year over year.

– South Redondo Beach had 40 Closed Sales in April. Homes here have trended up 7.6% year over year and the median Closed Sale price of homes was $1.38M in April. Homes in South Redondo Beach sold for 1.8% higher than the list price.
As a whole, Redondo Beach's median Closed Sales price was $1.3M in April 2021, continuing the upward trend at 13% year over year. We have historically low inventory with only 1.5 months of supply, which is down 40% year-over-year, accentuating a lopsided Sellers' Market. Take the limited supply of homes and add the excessive buyer demand and Voila! You have an aggressive marketplace.
That's right, you guessed it…It is a very competitive market out there for Buyers and we continue to see an appreciating Seller's market. After living "safer at home", many Buyers are really valuing the importance of home and homeownership. From first time buyers, to move-up buyers and step-down buyers – many of whom want to take advantage of California's new Prop 19 – it seems everyone has realized that "there's no place like home". Buyers are competing to win – finding themselves determining how to put their best foot forward with every offer, providing the Sellers with the best terms possible. Although Sellers are winning and reaping the rewards, with some patience and tenacity, Buyers can be victorious too – triumphing with homeownership, accompanied by historically low mortgage interest rates and tax incentives. If you are thinking of making a move, let's talk… we are here to navigate you through this intricate process.
Below, please see some stats on other South Bay cities.
Don't see your city or neighborhood, we're happy to help!